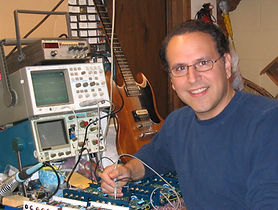 DLS Effects is owned by president David Sestito who has designed and manufactured Pro Guitar Effects in the USA since 1999. We, DLS have a relentless determination and satisfaction seeing and hearing our products as part of an artist's sound and personality. Our company's mission is simple; Go the extra mile to design exciting guitar effects, superior quality in sound and construction, inspire creativity, and wow the player and the audience!
DLS Effects products are designed by engineers that are also musicians. No matter how long it takes, no effect is released until it achieves unanimous thumbs up by our professional beta testers. DLS is grateful to serve musicians of every level from novice to pro. It has been a true honor collaborating artists and bands over the years such as Rush, Heart, Rascal Flatts, Tesla, Styx, Guthrie Govan, Darius Rucker, Daughtry, Theory of a Deadman, Green Day, Lifehouse, Cassadee Pope, Rolling Stones, Johnny Hiland, Aerosmith, Smashing Pumpkins, Greg How, Three Doors Down and many others. Our highest reward is seeing the inspired creativity and enjoyment of musicians around the world using our products!
History from Dave at DLS: It all started in 1998 when my daughter was starting to play guitar and listening to some heavy bands. She came to me and said, "Hey dad, hear that Korn guitar sound? Can you make me something that does that kind of distortion?" Hum, I figured why not. I used to use effects when I played in our band Darkstarr, and now that I had electrical engineering expertise. I thought I could pull it off. I proceeded to make a distortion unit, which she used and liked very much. That enticed me to dust off my gear and play a bit more with my old effects. I tried my using my EH Memory Man delay, but it was not working well. I thought a while and said, "Heck, I should be able to design something at least as good, and with some extra features". So I did some research and proceeded to design my first Delay effect. It was oh so close, but after spending many months tweaking, I scrapped it in frustration because it did not meet my expectations. I literally through it in the garbage! I started over again with a whole new hybrid electronic design approach.
Five months later, success was at hand with the Echomaster Delay. A friend was producing Greg Howe & Victor Wooten and I was fortunate enough to meet Greg at the studio. As a result, Greg ended up using the Echomaster on the Extraction CD. From there I used a similar design philosophy and designed the stereo Ultra Chorus which also exhibited some beautiful chorus tones.
Several years later, I recognized the need for a tap echo in the market place. So, I went on to design the dual EchoTAP delay which was also smaller and stereo I/O. It had a separate Volume for each echo channel and a Tone control for the echoes. After that we came out with the Chorus~Vib chorus. Immediately after their release, one of our dealers called and said "I'm not supposed to tell you this, but I just got orders for your products from Aerosmith on Aerosmith letterhead! Apparently Brad Whitford from Aerosmith and guitar tech Greg Howard really liked the products a lot.
Aerosmith then contacted me about doing a custom stereo chorus mod and the next thing I know we were back stage at an Aerosmith & Cheap Trick concert! The word soon got out and more professional users started using DLS Effects around the world. Fortunately the sound and quality of the products received a good reputation, which got dealers contacting us without any advertising.
In 2004 we tackled the RotoSIM, because musicians were lusting for a great Leslie type effect. I figured a Leslie/Vibrtone effect would be really difficult and I wasn't disappointed! What I found is that musicians have different takes on what a rotary speaker should sound like. Even various artist recordings sounded different. I knew then that this product would have to be very user controllable with both panel and inside pot adjustments. After a year of R&D and several product revisions, our beta testers finally gave a thumbs up and the RotoSIM was launched. The RotoSIM soon became our best selling product worldwide. Joe Don Rooney from Rascal Flatts used the product on 3 of his boards and many songs and recordings. At a Rascal Flatts show, his guitar tech Dave Graef said, "hey Joe, this is Dave from DLS, the one who designed the RotoSIM". Joe Don gave a huge smile and said, "Oh, hey, I really love using that pedal, thank you so much for making it!"
We also heard that Carlos Santana and John Mayer were seen with them. Then artists like Richie Sambora, Alex Lifeson, Billy Corgan, Brett Mason, Tesla, Guthrie Govan, Johnny Hiland, Lifehouse, Quinton Gibson, Joe Walsh and many others had the RotoSIM. I still get emails from musicians of all levels thanking me for designing that product!
More Chorus products: In 2007 the Ultra ChorusII dual channel lush style chorus was designed as a thicker, Rush sounding chorus with stereo I/O. When it was ready, I knew Alex Lifeson from Rush would love this pedal, so I sent one to him for his studio. Several months went by and I thought Alex forgot about it. Finally he emailed me saying he loved it and apologized for taking so long! I had forgotten about it and almost deleted the email thinking it was junk mail! I also remember receiving a call from the production manager or Smashing Pumpkins. They had lost some gear and Billy Corgan actively used the Ultra ChorusII and RotoSIM as part of his sound. We had to ship both products to California via next day air! They thanked me up and down for helping them on short notice. Later that year I was watching Paladia on cable TV and the Smashing Pumpkins were on. The camera did a close up on his rack and there was the RotoSIM and Ultra ChorusII! I was really excited and called my wife to have a look at them (well, she was not as excited as me, but it was pretty cool).
We were also invited to a nearby Heart show and brought Nancy Wilson the Ultra ChorusII and the RotoSIM to try. Then in 2011, the smaller, lower priced Chorus Waves was released to replace the larger Chorus~Vib product. The Chorus Waves was designed to be more versatile and deeper, versus the Ultra ChorusII which was more lush sounding. Artists like Billy Corgan (Smashing Pumpkins), Quinton Gibson (Darius Rucker), Tesla, Hall and Oats, Steve Fekete, Lifehouse, Daughtry, Theory of a Dead Man, and other artists and studio musicians started using our chorus units, which brought legitimacy to the products.
In 2009 we designed a Univibe effect called the Versa Vibe. I liked that vintage Univibe sound, but Univibes are known to swamp your sound and tone with too heavy a bass throb. So after much R&D, I designed the Versa Vibe with a first ever Bass Throb control, which allows the user to add, or reduce bass throb. The optical circuits also included a Waveform control for smooth to aggressive Univibes, plus Vintage/Modern switch and Chorus/Vibrato switch. I was able to get some amazing Hendrix, Trower and Gilmour Univibe sounds when set to Chorus, plus some nice pitch bends set on Vibrato. To be honest, when it first came out in 2010, we were a little disappointed because some vintage Univibe purists were not open to the Versa Vibe. Fortunately as the product got out there, more musicians loved the enhancements and Univibe sounds, plus the controls over the traditional units.
The Versa Vibe product began moving off the shelves and reviews were stellar, as were the emails from musicians thanking us for making the product. The Versa Vibe was soon adopted by artists like Rascal Flatts, Alex Lifeson from Rush, Lifeshouse, Neil Zaza, Guthrie Govan, Daughtry, and other professionals and studio musicians. We even received emails from some Bass players saying the Versa Vibe worked well for Bass and the sound enhancement was excellent.
In 2010, we were invited up to a Lifehouse & Daughtry show by a mutual friend of Ben Carey (guitarist at the time). Ben went out of his way to have an amp and guitars setup back stage and try our effects when I arrived. The Lifehouse and Daughtry guys came to hear the RotoSIM, Ultra ChorusII, Chorus Waves, EchoTAP and Versa Vibe and to my excitement really liked them! That's where I met Brian Craddock from Daughtry who became a good friend and DLS user at The Cat Room studio. Ben also started using our effects and asked if we would design a tap Tremolo. I thought, "hum, that would be fun to design". I knew this would not be a huge selling product, but thought we could take our own DLS twist on it. For the Tremolo I used all analog circuits, along with microprocessor control and every feature you could ever want from a Tremolo (Tap Tempo with rate multipliers or Normal Rate mode pot, Ping Pong stereo out, Shape control for duty cycle of the tremolos On/Off, "Warmth" pot, to control dual opto devices for vintage tube tremolo to more aggressive sounding tremolos, external Expression pedal input for Rate control, 2 separate stereo channels, and the list goes on!
After it's release, Ben from Lifehouse emailed me and said to watch the Good Morning show, where he used it live on their new song from the Almeria CD! It was thrilling to see it on live TV and on the CD. We also did some custom mods by adding a jack for an external tempo input signal for artist Steve Fekete (Cassadee Pope), and Kerry Marx (Opry and touring guitarist). Rascal Flatts and Johnny Hiland have units also.
In 2013, a couple dealers recommended we design a quality Overdrive. I thought about how saturated the market was already with overdrives and distortions. DLS was mainly into modulation products up until now, but maybe it was time to diversify some. So, even though the market was saturated, I decided to go to create the Reckless Driver. I designed it to have a Normal and Boost stage, with the Normal channel feeding into the Boost channel, kind of like master volume. I also added clean mix pots for the Normal and Boost channels, so the musician could clean up the sound if desired. Many use the Normal channel cleaner for rhythm and the Boost more distorted for leads.
The EQ was designed to be super wide and dynamic range, along with an Attack switch to add edge or smooth out the sound some. Frank Hannon from Tesla, Quinton Gibson from Darius Rucker, Kerry Marx, the Gibson Las Vegas studio and others adopted the product. Frank from Tesla was even nice enough to make a video for us before a Tesla show in 2015!
In 2014 we began work on the RotoSPIN. We already had the full blown RotoSIM, so the goal was to be smaller, lighter, less cost than the RotoSIM, plus to cut through live more. I designed it to have it's own personality and be able to achieve the Leslie 122 and 145 cabinet sounds, plus a realistic Stevie Ray Vaughn Vibratone sounds. I thought this product would be simple because of our experience with the RotoSIM, but it was not! Using different opamps, capacitors and Bass Rotor circuit did give the product it's own personality and cut through more live, but the factory setup and tweaks took some time to get right. Fortunately we had some great beta testers like Brent Mason, Frank Hannon from Tesla and Johnny Hiland to help. We took our time and introduced the RotoSPIN just before the 2015 Summer NAMM show. Johnny Hiland was kind enough to do a Premier Guitar Magazine new product video at the 2015 Summer NAMM show where DLS was exhibiting (I was nervous about being in front of the camera for this, but Johnny was a natural and put me at ease!)
In April of 2015 Alex Lifeson or Rush needed a Boost-Sustain channel several weeks before the "R40" Rush tour started. I told my wife not to make any plans that weekend and proceeded to get to work. I used the Reckless Driver as a base and redesigned the circuit. By Sunday evening, I had it sounding to what Alex and guitar tech Scott Appleton described (boost that goes from clean to just breaking over to distortion, plus some added sustain for leads). I spoke with Scott and had to ship it overnight from New York to LA where they were practicing. Alex soon thanked me for working all weekend and tried it over that that week. Alex and Scott eventually both emailed me and said they loved it, plus it added fatness. Alex was going to be using it for 60% of the show, especially for leads and such! We were invited up to the Buffalo show to meet with Alex and Scott and heard the Boost-Sustain first hand. This was the second time I met with Alex and Scott over the years, but the first time having a drive pedal on tour with Rush. Alex was one of my childhood heroes and I modeled some of my playing and guitar effects after him, so this was very much a dream come true!
To summarize, I really enjoy getting to meet and develop friendships with artists of every level. DLS Effects has a relentless determination and satisfaction seeing and hearing our products as part of an artist's personality and sound. We have stayed true to providing excellence in sound, construction and support since 1999. The arts and music are more important to society than people think, and DLS Effects is proud to help support this. To that end, please stay tune to more exciting products to come!